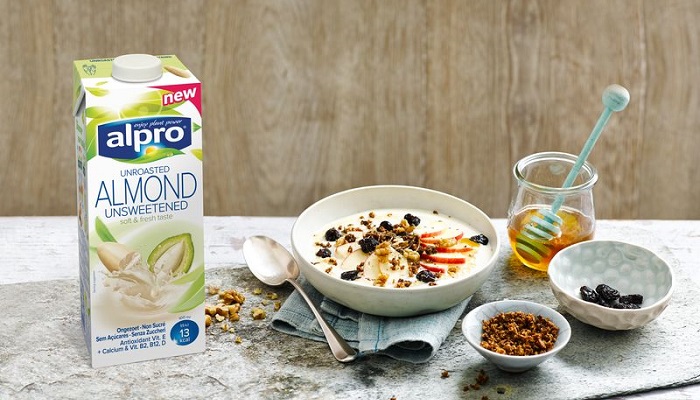 A beautiful fresh nut taste combined with a delicate floral aroma, it's seriously delicious! This drink is easy like a summer breeze. Thanks to its fresh almond taste, Alpro Almond Unsweetened Unroasted is great as a drink or on its own, but also perfect on your cereal or oats, giving them something a little bit extra.
Tempt your taste buds with silky soft almond and a touch of vanilla. Alpro combined the nutty taste of almonds and the subtle sweetness of vanilla to create a luscious, creamy and truly delicious way to brighten a break any time of day. So much to love, so little to feel guilty about, as it contains only 29 calories per serving, too.
Alpro soya Drink Red Fruits contains all the benefits of our soy beverage, with a delicious sweet taste. Alpro soya Drink Red Fruits contains neither preservatives nor colorings and is a source of vitamins B2, B12 and D2.
If you love the creaminess and nutty taste of cashews, you'll be sure to fall in love with Alpro Cashew Original drink. Enjoy the smooth and creamy texture without feeling guilty, as it is low in sugars and fat. Delicious drunk ice-cold straight from a glass as an afternoon treat or blended in a smoothie.
Alpro soya original is full of the plant-based goodness of high quality soya beans, milled and blended until deliciously smooth and creamy. Its subtle sweet taste is a great way to start your day - brighten up your breakfast by pouring it onto cereal, into your morning cuppa or even in your latest baking creation!
Proving soya and vanilla are a truly dynamic duo! Alpro soya vanilla pairs the rich yet subtle flavour of vanilla with the creamy texture of our soya drink. On top of that it contains 30% less sugars than the market references in vanilla flavoured milk drinks. Great on its own, sublime blitzed with banana or poured cold on cereal.
Discover a new way to enjoy the taste of chocolate! This chilled chocolate drink sensation is full of soya goodness combined with the luxurious flavour of the finest cocoa beans. Definitely a match made in chocolatey heaven!
For true banana lovers. Alpro used real banana to add a touch of sweet and tropical flavor to your soya drink. Moreover, this drink contains 30% less sugar than most fruit-flavored milk drinks. Alpro soya Banana is never ordinary, but extraordinary delicious.
Original and Best. Lightly roasted Mediterranean almonds and water are blended together in our delicious Almond Original. Simply perfect on cereal, in tea, coffee and smoothies or just on its own.